Sustainability at Bauerfeind AG – We are thinking of future generations (原文)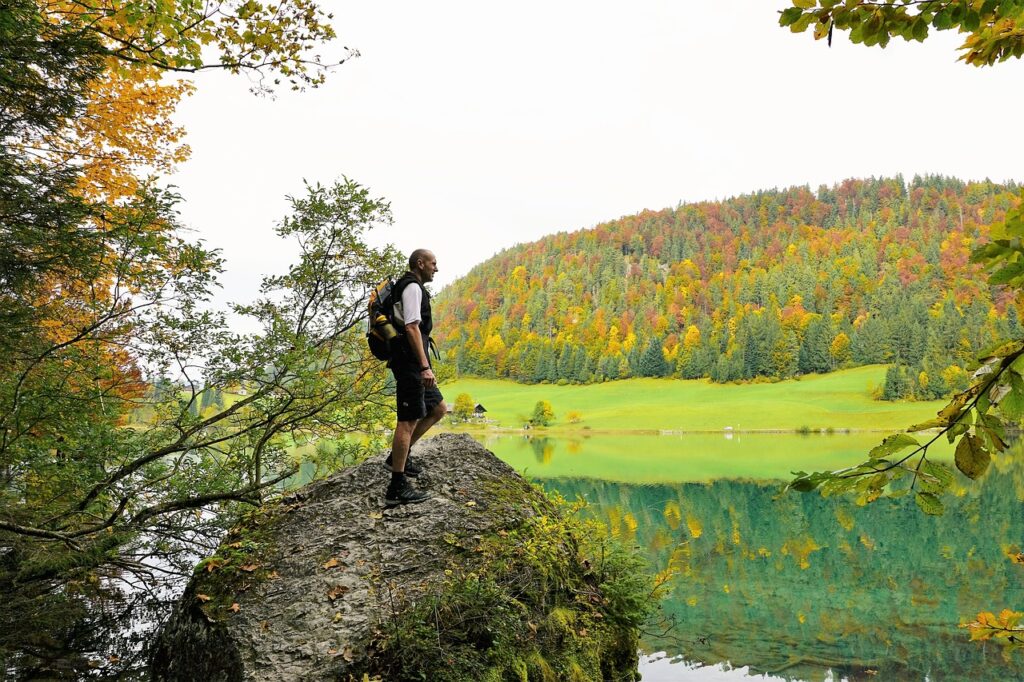 Bauerfeind AG is one of the leading manufacturers of medical aids such as supports, orthoses, medical compression stockings, and foot orthoses. These quality products are exclusively manufactured in Germany.
Bauerfeind is committed to addressing the challenges of ecological, economical and social sustainability. By using the latest production methods, we continually improve our resource productivity. Our supply chain is designed to be socially responsible and environmentally sound. Digitalization is constantly being driven forward in all business divisions.
As a family company, we strive to safeguard the opportunities of future generations by doing business sustainably.
We view corporate social responsibility as another building block to ensure sustainable and future-oriented business development. At Bauerfeind AG, we offer our workforce an extensive range of healthcare services and social services. We view legal requirements as our minimum standard. Our Code of Conduct ensures fair, loyal and responsible interaction with one another. Sustainable economic value creation can only be possible if moral and ethical values are upheld.
Our commitments in the different business divisions are outlined below:
Production and products
Our production follows the value stream principle, which means: Detect waste and increase added value. All processes in the value stream are linked together to create a flow.Through immediate error feedback, we improve quality and thereby reduce defective products.
Bauerfeind quality products have a long service life and a high degree of relevance for users, which in turn has a positive impact on compliance. Our products are entirely manufactured in Germany. Bauerfeind products can be measured without any special measurement clothing and ordered directly from the online shop thanks to the electronic measuring systems developed by Bauerfeind (Bodytronic).
The in-house Bauerfeind Innovation Center puts our sustainability commitment into practice when developing new products. In this process, the Center relies on networks with research laboratories worldwide.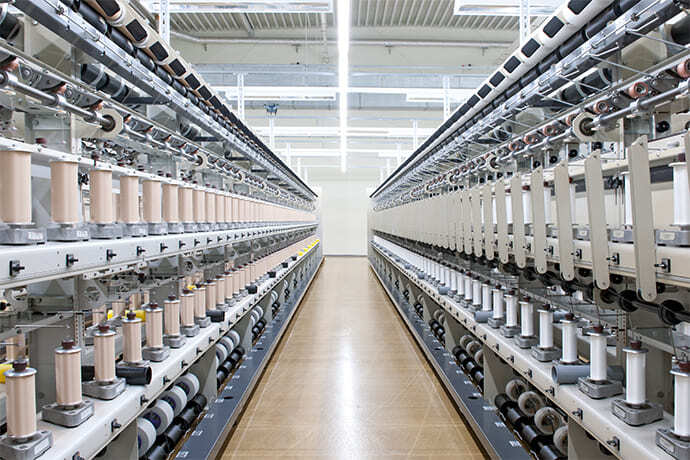 Green building and the company's own technical facilities
In our office building, we use a type of thermal component activation called concrete core activation to assist with heating and cooling. This is a system that uses building floors for temperature regulation, thereby saving energy.
A photovoltaic system was installed on the south side of our central administrative building, a multistory office building in Zeulenroda, Germany. At its most efficient, the system generates 39 kWh for us.
Energy-efficient cooling systems using free cooling are installed on the Zeulenroda premises: Free cooling enables the cooling systems to utilize the cold outside air in the morning without needing to switch on the compressors. This cooling method is a highly efficient way of saving energy.
In Zeulenroda, Bauerfeind operates its own water treatment plant: This plant converts drinking water to soft water, which is then purified further into osmosis water. We use osmosis water to generate steam. Steam is required for the ironing stations or to operate the dyeing machines, for example.
At the compressor station in Zeulenroda, pressurized air is generated for the entire operation. We also use the compressors for heat recovery. For example, the dyeing water is preheated to 30 – 35°C via a heat exchanger using the waste heat from the compressors.
Thanks to these technical systems, we only consume the resources we actually require and are even able to reuse them multiple times.
Digitalization
In the quality and approval management division, we work using a paperless document management system (DMS) as well as electronic work instructions and have transitioned to nearly 100% electronic data for regulatory matters at the EU level.
In the marketing, sales and accounting divisions, we rely on countless electronic systems that enable virtually paperless work, for example: E-invoice, Jira as a collaboration tool, softphone telecommunications, intranet and online shops.
Thanks to the Bodytronic measuring systems developed in-house, Bauerfeind products can be measured without any special measurement clothing and ordered directly from the online shop.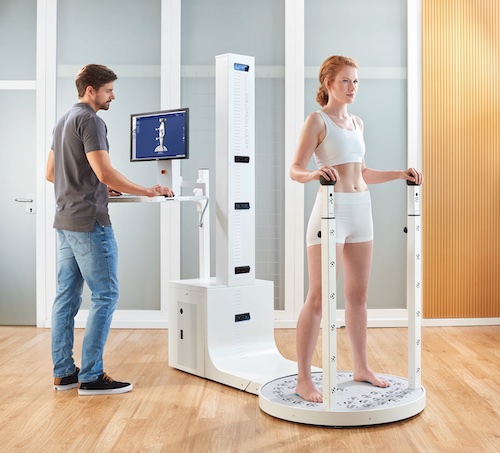 Green procurement
In the procurement division, we opt for the conscious and local purchasing of sustainable materials wherever possible. We strive for minimized, sustainable packaging and order in batch sizes that are optimal for further manufacturing in our production facilities.
Together with our suppliers, we have developed a container exchange system and we pool raw material deliveries according to a fixed schedule, reuse the packaging material for internal transport of goods and maintain strict separation of waste. We use FSC-certified cardboard for our product packaging, recycle excess yarn and have converted all lighting in the production area to LED.
We ensure compliance with emissions requirements and environmental protection requirements as well as fair working conditions at our suppliers.
CSR (Corporate Social Responsibility)
We offer our employees a modern working environment with a comprehensive range of social services and healthcare services. In Zeulenroda, these include: ergonomic workstations, parking directly on the premises, well-maintained break areas in the company garden, a company restaurant subsidized by Bauerfeind, free drinks, opportunities for further training and more leave days than the legal minimum.
Bauerfeind's healthcare services include a health premium, sports classes, massages, health days and much more. As a family company, we celebrate company anniversaries together and hold a large gala every year to honor our employees who have been working at Bauerfeind for 10, 25 and 40 years.
Aramark – Be well. Do well.
Our climate-neutral company restaurant Aramark serves regional products that have been purchased responsibly to the 1,100 Bauerfeind employees at the Zeulenroda site each day. Aramark is committed to its sustainability plan "Be well. Do well". This plan strives to reduce the environmental impact of Aramark's business activities, particularly its CO2 emissions.
Bio-Seehotel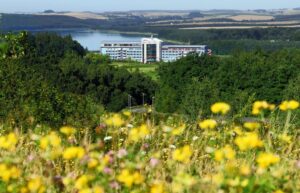 The Bio-Seehotel was reopened by Prof. Hans B. Bauerfeind in 2001 after extensive renovations and is part of the Bauerfeind company group. Guests are served the best food entirely from controlled organic farms. From breakfast toast to dinner rolls as well as meat and sausage products, fresh organic quality delicacies are prepared daily for guests at the in-house organic bakery and organic butcher's shop.
The Bio-Seehotel stands for quality of life, living life to the fullest and interacting mindfully with nature and with one another. Environmentally conscious behavior is our philosophy and our holistic approach to the highest quality of life.
MANOAH – HOUSES BY THE LAKE – A brand in the Bio-Seehotel Group
MANOAH – Houses by the Lake – 21 modern and comfortable vacation homes located directly on Zeulenroda Lake. These solid timber houses have been equipped with high-quality natural materials to make them comfortable and sustainable. Three different types of homes with an area of 60 to 80 square meters can accommodate up to eight people. The MANOAH brand stands for high quality, nature, warmth, security, enjoyment, health and family. It is part of the Bio-Seehotel Group.
In 2020, the MANOAH houses won the Energy Efficiency Award of Thuringia.